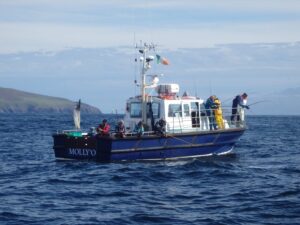 Curious about the vessel you'll be spending your day(s) on?
The Molly'O is built on  a very stable platform, on account of her heavy construction and wide beam, a maneuverable vessel on account of the twin engines, capable of speed up to 20 knots in moderate seas making it the perfect boat for a day at sea.
With a large wheelhouse the Molly'O provides space for everyone to get in out of the sun and elements and enjoy the ride and views.  She is outfitted with all of the latest in fish finding electronics and GPS navigation.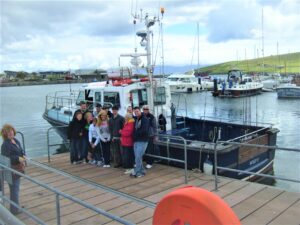 If your fishing and hook the 'big one' the opening stern can be used to land your prize fish. The deck windlass and lifting derrick are capable of loads up to 500kg.
Everything on the Molly'O is designed to give you the best possible experience while you are at sea and Skipper O'Connor is committed to this goal.
More specific information is listed below: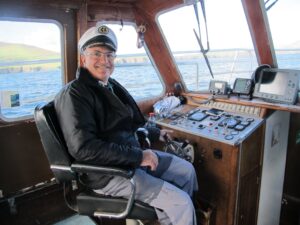 Hull: Tyler built heavy duty glass fibre construction. Semi displacement.
Dimensions: 13.2 m x 4.6m x 1.8 metres.
Engines: 2 X Caterpillar 3208 rated 375HP each. – 1 X Onan 14Hp Generator 4 KVA/220V output.
Electronics: 2 X VHF Radio, 2 X Radar, 2 X depth sounders, 1 GPS plotter,1 X weather fax, 1 X deck hailer.
Cabin: Galley, electric & gas cooking. Toilet manual, 2 bunks, fresh water tanks to sinks.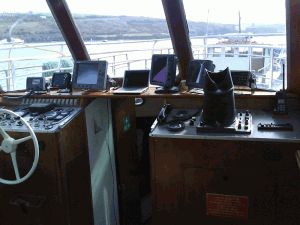 Winches: 1 X electric 500 kg anchor/hauler, 1 x hydraulic deck crane.
Safety: Class P3 Dept of Marine licence, includes 14 man liferaft 14 lifejackets, flares, 1st aid kit & MoB equipment. Fire & deck pumps, 1 metre hand rails all round.
Crew: Skipper  ex-fisherman with 40+ year's experience, local knowledge. Deck hand 5 years at sea in varying vessels.