On Saturday 25th Sept we started trolling for Albacore at 7.00 am west of the Blasket Islands Co. Kerry.
At 08.45 we got our first strike for 20 minutes Alan Payne struggled with ths fish. A keen and experienced angler Alan brought the tuna to the boat, then it took off again and again eventually we boated it. It weighed in at 22 lbs a fine fish and Alans first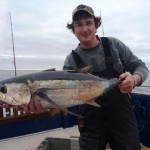 Albacore tuna. We got three further strikes but failed to land them. What a great day with hundreds of Common dolphins keeping us amused between strikes.