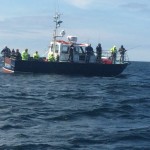 Welcome to 2021.
For the past few months we have been working on Molly'O installing a new upgraded fish finder and we have put 'downriggers' aboard. This is exciting for us, the fish finder will tell me at what depth the fish are at then we lower the riggers to the fish, the downriggers are towed slowly over the shoal and hopefully the fun starts landing the big ones!
We are waiting for a date to go fishing, as soon as that happens I will post dates available for half and full days angling on Molly'O. In the meantime you can provisionally book your date by  calling me Rory or text 0872213900, send an e-mail to me deepseadingle@gmail.com
Below are some photos from Last year, even short was a great fishing year.
Time now to get your rods and gear ready, there are great bargains out there !
Good fishing
Rory
Skipper Molly'O – Dingle