Last Saturday was a very fine day with light NW winds. I had a mixed group Slovakians & English anglers joining them two ladies on their first fishing trip.
The day started poorly with no fish for the first hour, the reason, the sea was churned up by the recent storms and was milky in the shallow areas under 15 fathoms. We moved towards Slea Head and the fishing improved, even got good with large pollack landed.
The swell was still lingering but the day was a sunny blue sky one, great to be out. The guys were going to cook the pollack for dinner, plenty for all to eat.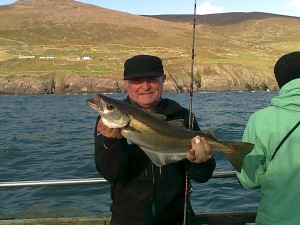 Since the change back to GMT the evening is short so we started back to Dingle.
At the harbour's mouth a few boats were looking at Fungi our dolphin. He put on a great show with loops, spyhops and general playfulness it was great to see and the clients got some good video.
Next issue soon hopefully.
Rory.