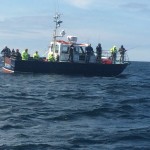 August and September were good months weather-wise and we took the advantage of some fine days. The photo above was taken with a full crew of 12 passengers fishing with plenty space along the starboard side. We were south of the Blaskets that day and as you can see the weather was fine ore importantly the fishing was better that day.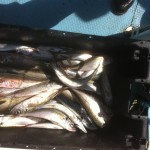 Bernhard and his friends from Brittany were back again, as usual good fishermen with 'a laugh a minute' attitude even when one broke his rod on a Pollack.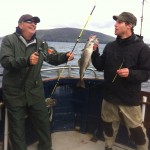 Bernhard had a fine Ling a few Octopus and a lot of big Pollack. I was amazed to find out that they have to travel about 20 miles offshore in France to fish Pollack, they love it here and fish all the Kerry coast from canoes and from the rocks but the midday lunch is all important and fishing stops for a while.
More in this post later, WordPress have changed I'm getting used to the new format uploading to this site.
We will be winter fishing from 10am to 3pm weather permitting cost €40 per person, we can also do 3 hour trips, please ring me on 087-2213900 for a booking or just to have a chat, thanks for reading this, leave a blog.
Rory.